One of the core elements of Trove is giving players means to express their creativity, whether it's through player designed items, dungeons, cornerstones, or homeworlds. Inspired by the recent VentureBeat article, we wanted to take a deeper look at some of the homeworlds deemed the "7 Wonders of Trove."

Fargin's Weeping Skull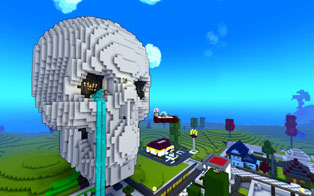 Impossible to ignore when visiting Fargin's World, the Weeping Skull is a true wonder. With its massive scale, and sinister countenance, the Skull is a must see for any new Trovian.
Quetzacoatlus's Pyramid Maze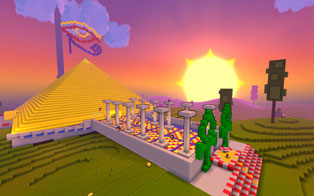 Can you solve the mystery of the Pyramid? While the impressive edifice is assured to astound from outside, it gets even better when you enter. With a glass ceiling over the maze to prevent unethical efforts, if you want the best view in the homeworld you'll need to put in the work.
Shaun's Windmill Castle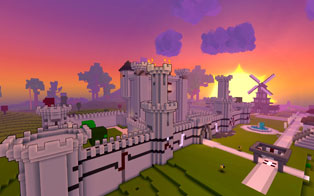 A quaint village and picturesque castle make Shaun's world the perfect spot for a relaxing vacation in the Troverse. Full of quiet spots to get a bit of crafting done, along with all the other services you may need, Shaun's world provides a welcome respite to the bustling day to day life of your average Trovian.
Mr. Mover's Fungus Grotto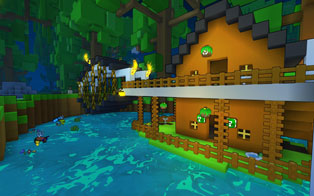 Meandering paths leading through tunnels in the rocks open up into breathtaking vistas through Mr. Mover's world. Simply pick any of the color coded paths leading out from the farm to find an assortment of vibrant vistas. With the number of paths, each uniquely themed, Mr. Mover's world is great for return visits!
Krabcat's Wide World of Geometry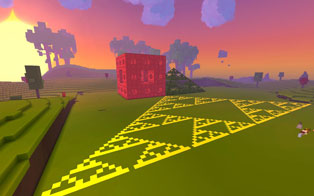 Mathematically precise and perfectly placed, Krabcat's world provides a more abstract experience than many of the other locations on this list. The replicating shapes have an almost fractal sensibility, and leave the visitor feeling a sense that these shapes represent greater mathematical truths that linger beyond the layperson's grasp.
Gilnidor's Castle Kingdom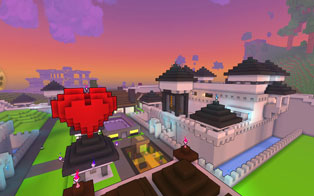 Gilnidor's Castle, with its soaring towers and sweeping buttresses stands as an example of how differing interpretations of similar themes can lead to profoundly changed results. Projecting strength and majesty, Gilnidor's world will have you descending its towers and delving deep into the dungeon beneath!
NorTroll's Great Glass Sphere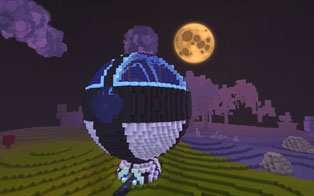 Through the titanic porthole of Nortroll's Great Glass Sphere, you can look out on NorTroll's world and imagine yourself in the control room of an epic spacecraft. Or perhaps your inclination is to exit the massive monolith and traverse the paths of his demesnse. Wherever your choices take you, NorTroll's is a world you won't want to miss!
Of course Trove's wonders aren't limited to these particular worlds, and almost every world you visit will have their own unique merits. What are some of your favorites? Let us know on Twitter (@TroveGame) with the hashtag #TroveWonders!