What's new with Trove: January Edition
Welcome to 2014, Trovians! About a month has passed since our first official blog, and in the meantime, we've added a huge amount to Trove. Today we're covering features that went live in the past few weeks, showing off Community creations you can find in the world, and giving you a sneak peek into what's coming next.
NEW IN TROVE
PETS & MOUNTS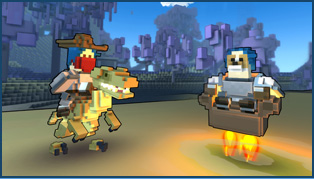 Both pets and mounts are now available in-game! Speed around the world on your very own flying recliner or dapper Raptor, followed by your trusty Punchbot companion. All pets have special bonuses (on top of being adorable).
PORTAL POTIONS
Call your friends with new Town Portal Potions before tackling a new dungeon or setting off to explore a brand new zone. Using portals will allow you to rapidly move between people and places, and they give you a quick route back to the town square, making group exploration easier, faster, and much more dynamic.
COMMUNITY WEAPONS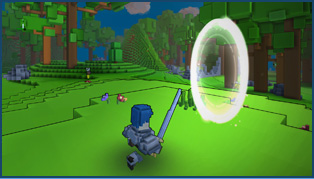 We have an open call to create items for the world: Check out our subreddit at /r/TroveCreations to see what the community has come up with, what's already made it in-game, and how you can make your very own voxel weaponry. Community members whose creations make it into Trove are awarded credits, game access, and a unique hat, and there's no limit to how many you can make.
POWERFUL ENEMIES
As you romp around Trove, you'll notice regions with tougher enemies than before – maybe too tough to tackle alone. Craft up some Town Portal Potions to call in reinforcements!
CRAFTING PROGRESSION
Crafting has been updated to include improved progression. Start your journey to becoming a master cubesmith and discover new recipes along the way.
COMING SOON
NEW GUNSLINGER CLASS
The Gunslinger is a ranged fighter with powerful abilities and a swagger to his step. The first version of this new class will be playable in-game soon!
QUESTS
Do quests, get loot, and work together with everyone else on your world to unlock rewards!
NEW ZONES, MOUNTS, PETS, OH MY
In addition to polishing the game, we're also creating a lot more content for you to explore and experiment with. Keep your eyes on /r/Trove and @TroveGame – we'll be posting there as soon as new features are patched into Trove!